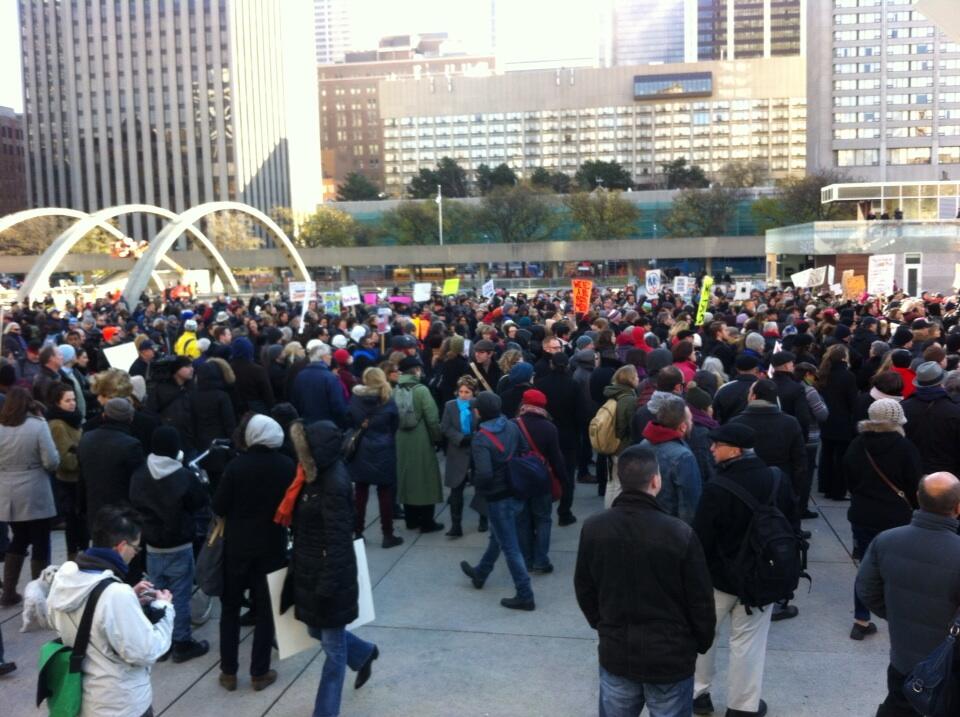 Cuts, what cuts? It's all about bad behaviour
photo credit: @HeartsOnTheLeft
Not one word about cuts. Not one word about privatizing garbage collection. Nothing about his refusal to ever attend a single Gay Pride Parade. Zilch about his actual politics. No, everything is focused on his drinking, his drug use and his public displays of such activities. Oh, and in case you didn't notice: he's fat (because that deserves serious political discussion with regards to the mayoralty). The closest we get to something progressive is a councilor pointing out the hypocrisy in Mayor Ford's "zero tolerance" stance on illegal drugs when he himself has purchased illegal drugs in the last two years.
Make no mistake, this is a right wing coup to get rid of a difficult former front man. That the left is getting caught up in this is a sign of how off the rails the left is, how disconnected it is from ordinary, working class people. I don't expect much from the "left" on city council. The best that they could do when they were needed was to vote for a study of how efficient garbage privatization was after it was implemented. And, as I've said before, when Ford put forward a motion during the G20 debacle to laud the police, most of the left voted for it with 5 members walking out of the chambers in order to avoid having their vote counted. They couldn't even bring themselves to publicly abstain on a pro-cop vote after all the round-ups of innocents, the kettling, the home invasions, Officer Bubbles, the display of "weapons"by Chief Blair that included a chainsaw and some medieval role playing gear. I'm not sure how you could manage to be more lame and still get out of bed in the morning.
But now they're all over this, crusaders for truth, justice and democracy – and being led by the nose by right wing Rob Ford ally Denzil Minnan-Wong to, uh, depose Rob Ford. (edit - except for Gord Perks, who opposes deposing elected officials - though I will never forgive him for leaving the room during the G20 vote).
Besides the city council "left", I've also been shocked by some of the stuff I see on Facebook. I've seen articles posted attacking Ford's drug and alcohol use by people who I know have used drugs and alcohol to excess in the past. And done it in public. Some of them even got into fights while doing it. (For the record I have used both, and made an ass out of myself in public more than once. I also strongly believe in decriminalizing drugs so that users aren't sent to prison and the drugs trade isn't turned into a high stakes criminal activity involving guns and violence). Then of course there are the fat jokes, always the fat jokes. And the faux outrage because Ford said "eating pussy". Are you serious? I hear people say worse shit in the cash line at the grocery store for God's sake. Who. Cares.
More seriously, look at the rallies to depose Ford at City Hall. I dare you to find a single sign opposing cutbacks, privatization or bigotry. You won't because they don't or, rather, these rallies aren't about that - they're about moral outrage. The kind of morals that are about contempt for the great unwashed, of which I am proudly a member. Let's take a step back for a second here. As wildly delusional as Rob Ford and his brother are – I mean, they consort with Giorgio Mammoliti and Doug compared Rob to Jesus of Nazareth – they are right that this is a witch hunt. Perhaps, dare I say it, even a conspiracy.
The police staged an expensive and extensive investigation against Ford, including airplane surveillance, stake-outs, interviews, etc. all because he got wasted on tape. Does this strike no one as an unusual use of police resources? They found nothing, apparently, with which they could convict him – and yet the details of this surveillance of an innocent (yeah, the word chokes a bit in my throat) man are released to the media. Does nobody else find this disturbing? Would you be troubled if the cops staked out Maude Barlow's house, or David Suzuki or Olivia Chow – and then the courts released photos, transcribed interviews and CCTV footage that smeared them without ever laying a charge? Do you think that this is a good precedent for dealing with politicians who rub the powers that be the wrong way? And rub them he does.
Ford is a populist windbag and right wing bigot with a neoliberal agenda that includes cutting services for the most vulnerable in society. But he was not the candidate of the city establishment – George Smitherman was. Ford won because, unlike the left (or Smitherman), he speaks a language and expresses an anger to which many working people can relate – including the non-white, immigrant heavy suburbs. That's not the route of preference for the ruling elite who would rather see things stay respectable and passionless. (Unfortunately, it's also not the route of preference for the polite left.)
Sure, after Ford won they were willing to work with him but it was begrudgingly because he's such a loose cannon and because he's not totally under their control. Doug Ford's wild attacks on the Police Chief Bill Blair are demonstration enough of that. As the inability of Ford to drive through an austerity agenda became clear this very conditional support waned. And when he was unable to come up with a credible transit plan in a city where gridlock is costing significant profits (as in billions of dollars every year), there was growing alarm. Not to mention his (and Doug's) tendency to come up with the most hare-brained ideas when it comes to city development (ferris wheels for the waterfront, anyone?).
At some point this draining of ruling class support became an active desire to remove him. Again, not because he was a right wing bastard but because he was an ineffective right wing bastard.
And not because he stirred up some active opposition with his neo-liberal policies. Does anyone really think that the ruling class gives a rat's ass about some protests and a relatively small and contained strike by library workers? Really? Have you seen the ruling class of Greece veer away from implementing harsh austerity in the face of monthly general strikes? Opposition they can deal with - Mike Harris weathered a series of city-wide general strikes and a demonstration in Toronto of 250,000 or more people. He never once lost ruling class backing. This is not about the relatively minor (though welcome) opposition on the streets of Toronto. Mayor Miller, a candidate of the centre-left with labour backing, faced bigger resistance.
Whether the growth in the sentiment amongst the elite turned into active conspiracy, who's to know. For myself, I have a hard time believing that there isn't some coordination and discussion going on when the police dedicate a whole squad to following him (Including with airplanes!! I want to know how much that operation cost.), and then the results of those investigations lead to a progressive and systematic tightening of the noose. First, there are hints in the press that there might be some information damaging to Ford in the report. Then his driver, apparent muscle and probable dealer, Alexander Lisi, is arrested and charged with dealing pot. Then part of the report is released and the Chief of Police himself announces – at a press conference – that the crack video exists and that they have it. At each moment Ford has refused to step down and they have upped the pressure on him. My guess is that at some point, if he doesn't cry uncle and leave office, there will be a warrant for our Chief Magistrate's arrest. They will destroy him. I won't weep for the guy, given his mendacious and pathological behaviour, but I'll shudder at the precedent.
The left, by trailing along behind this palace coup and acting like it's some sort of uprising from the people – have given cover to the right wing and the ruling class, putting a progressive gloss on the whole operation. They have facilitated a moral panic about drugs and alcohol and bad manners that won't be used against cocaine snorting bankers, cavorting with high priced call girls. It will be used against "gangbangers" to launch attacks on visible minority communities and the poor. And the left will be tarnished as being responsible for these attacks and will be seen for the kind of downtown, whitebread, middle class snobbery of which Rob Ford has accused us.
A final note: in all this, where is Karen Stintz? She's being very quiet and letting people like Minnan-Wong and del Grande – not to mention the left – haul down the big guy. Her name is conspicuously absent on the open letter calling for Ford to resign. She is positioning herself to be the grand unifier who has no blood on her hands. If Stintz, a Tory, wins next year, the left will have itself to blame. Stintz actually stood up to Rob Ford while the left was still cowering at the mention of Ford Nation. She doesn't need to attack him now, she already established her anti-Ford credentials - when it took a spine to do so - now she can reap the reward. The left is helping her become our next mayor. Good work, guys. Just what we need, a more effective conservative.
No, just because Rob Ford is a total bastard it doesn't follow that all means of getting rid of him are good ways. And it sure doesn't mean that all ways will lead to a better city
. That so much of the left thinks so is a stark reminder that the left has lost confidence in itself and, even worse, lost confidence in the power of mobilizing, particularly working class people. This proxy victory – using right wingers, police chiefs, the courts and the media to eliminate a right wing mayor – is no victory at all. It is a hostage to fortune.